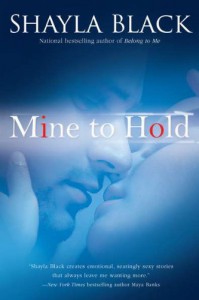 I was hooked on this book from page one and couldn't put it down. This book is just another wonderful addition to the series. In the beginning we get a glimpse of former characters and it is always nice to see what is going on with them and how the continued HEA is progressing. Ms. Black has a talent for writing characters with depth and understanding. People we give a shit about and want to hear more about even after the story is over. That's why I love that she always includes a glimpse of them as we go along. As for Del and Tyler, I fell in love with them. Their story was filled with drama, emotion and adventure! I know, you get tired of hearing me say it, but I do so love my sexy romances served up with a side of danger and intrigue. With this book, in fact this series, Ms. Black hits all my hot buttons! Not only do I get a sexy, hot romance and steamy love scenes, but I get love, family and friendship. It's all packed into one fantastic story that grabs hold and never lets go. When I read a book and my throat clogs and my heart feels like it's going to break right along with the characters, that means the author is doing her job. And no one does it quite like Shayla Black.
The only drawback, and this is a big one, is that I have to wait a whole friggin' year to find out which of the fantastic and mysterious characters she is going to write about next. I don't know about you all, but I am dying to know more about the delectable Xander.
If you have not yet read any of this series, what the hell are you waiting for!?